Professional-Edition
Customers of this enterprise solution are publishing and print houses or other customers that need to perform mass creation of publications – i.e. to constantly create FlipBooks with similar or different layouts. 
For a  detailed functional comparisons of all three editions, see License and version history
Enterprise Publishing-Edition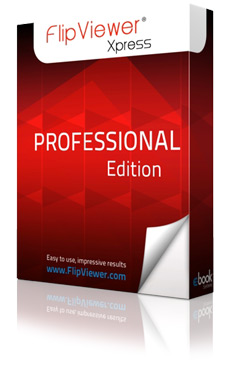 The Professional Edition consists of two components: the FlipViewer Creator software and the Server edition. This means you can trigger both standard desktop as well as server side conversions for your various FlipBook projects. Your focus is on the optimized usage of functions. The Server Edition allows you to create a variety of publications without major technical effort. The PDF source document can be added through a web interface or unloaded into a hot folder and it will be converted into a FlipBook with your predefined settings.
Features:
The Professional Edition consists of two components: the "normal" desktop solution, the FlipViewer Xpress Creator, and an additional server component, the Command Line Tool. With this server edition you can make standardized conversions. For individual projects, like integration of videos and interactive elements or viewer adjustments, use the fast and reliable desktop version.
You can offer the FlipBook as a quasi-white label version by hiding the FlipViewer Xpress loading logo when the FlipBook is launched.
With the FVX Command Line Tools, you can automate the process and run multiple instances of FlipBook creation at the same time.
Through the use of configuration files, the conversion settings can be pre-configured and initiated.
The command line tool can be invoked using PHP or ASP scripts and integrated into existing pipelines Publishing.
A hot folder is a folder permanently monitored. Once a document is added, a conversion process is triggered. With such a solution, you can create your own scripts to run the command line tool, or use the ready-made Hotfolder solution.